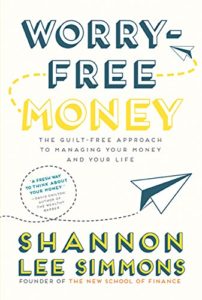 Do find managing your money frustrating and confusing? You're not alone. In today's increasingly cashless society, where marketers are doing everything possible to part us with our cash, it's easy to feel constantly broke. Worry-Free Money: The guilt-free approach to managing your money and your life by Shannon Lee Simmons offers a fresh voice in the world of personal finance. Her book will help you live a worry-free life when it comes to your money.
Full disclosure: I know Shannon pretty well. I first had the pleasure of meeting her when I was doing a CBC radio interview about my mortgage burning story. She was nice enough to give me advice on money coaching and building my personal brand. Besides being a friend of mine, Shannon's also the founder of the New School of Finance, a fee-only financial planning firm, and a frequent guest on CBC's On the Money hosted by Peter Armstrong.
The Hard Limit: How to Stop Budgeting
If you listen to most personal finance experts, they'll tell you to create a budget and track your spending. But like a strict diet, budgeting often doesn't work. In many cases, you're setting yourself up to fail and it will lead to more, in the words of Shannon, "f*ck it moments."
Shannon offers a fresh approaching to budgeting – the hard limit. When it comes to your money, there are only four categories to consider: fixed expenses, meaningful savings, short-term savings and spending money. The key to successfully managing your money comes from isolating the daily spending money from everything else. Once you do that, you can spend your money worry-free.
Happy Spending
Many budgets are doomed to fail because they forget to take into account your happiness. For example, you may save money by taking public transit to work, but is it really worth it if it will add twice the travel time to your commute? You might try it for a week and give up.
To address this, Shannon introduces a new concept known as Emotional Return on Investment (EROI). EROI is how much joy you derive from your spending. When looking for ways to save money, rank your spending on a scale of 1 (terrible) to 5 (utmost happiness). For example, entertainment may be a 5, while parking fees are a 1. By figure out each spending category's EROI, you can decide the best places to cut back to and allocate towards saving and debt repayment, without putting your happiness in jeopardy.
Stop Comparing Yourself to Others: The Beyoncé Factor
I especially enjoyed this chapter and its message: stop comparing yourself to others. Just because your friends wear designer clothes, drive fancy cars and go on nice vacations, doesn't mean that you should feel pressured to do the same.
Just like Beyoncé, your friends may be outside your financial sphere (or using credit to finance a lifestyle beyond their means). You don't know what lies behind the financial curtains of your friends. Your friends may have received a big living inheritance from their parents or they may be putting everything on their line of credit. By setting your own personal financial goals and not comparing yourself to others, you'll live a happier and more fulfilling life.
Start the New Year Off Worry-Free
Overall, I really enjoyed Shannon's book. It's a quick and easy read. I especially enjoyed her book focuses on the behaviours and psychology that leads us to spend our money how we do. Her conversational tone and personal stories from actual money coaching clients made it super relatable.
Start the new year off worry-free by picking up Shannon's book.
---
Sean Cooper is the author of the new book, Burn Your Mortgage: The Simple, Powerful Path to Financial Freedom for Canadians, available at Amazon, Indigo and major bookstores.