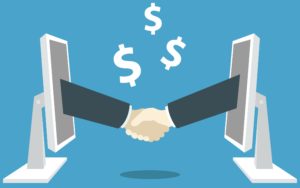 If you're anything like me, most of your net worth is tied up in real estate. While real estate is considered a solid long-term investment, it's still important to diversify. You don't want to hold all your eggs in one basket, as the saying goes. And the best way to do that is by investing. Through ETFs and index funds, you can invest in companies worldwide. But what if you want to invest in the local economy? Your options were limited, until now.
Lending Loop is Canada's first and only regulated peer-to-peer lending marketplace focused solely on the backbone of the Canadian economy, small business. Here's something that may surprise you: between 2002 and 2012, small businesses were responsible for 77.7% of all jobs created in the private sector. In fact, together, small and medium sized businesses represent 54.2% of the economic output produced by the business sector.
The sad reality is small businesses face many challenges today: a higher minimum wage, changes in small business taxes and increased difficulty in acquiring formal financing needed to maintain and grow their business, to name a few. What makes Lending Loop great is, not only does it provide small businesses with accessible capital, but it does it at a fair interest rate. Through Lending Loop's simple online loan process, small businesses can quickly and affordably obtain the financing they need.
What is Peer-to-Peer Lending?
If you're not familiar with the term "peer-to-peer" lending, don't feel too bad. While peer-to-peer lending has been available for years in the U.S., it's relatively new to the Canadian market.
Peer-to-peer lending is when investors like you and me pool our funds into a bigger loan. These funds are then loaned out to small businesses. It's a win-win situation for small businesses and investors. Small businesses get the financing they need and you and me, the investors, have the potential to earn excellent returns– it's that easy!
Through peer-to-peer lending, you essentially become the bank. Best of all, you're able to help small businesses right in your local community. By cutting out the middleman, the banks, Lending Loop is able to offer affordable financing to small businesses and attractive returns to investors.
How Does Peer-to-Peer Lending Work?
Peer-to-peer lending may sound complicated, but it's actually quite simple. Let's run through a typical peer-to-peer lending transaction.
The transaction starts when the small business applies for a loan. The small business owner can complete the online application in only about five minutes. Small businesses are then vetted for their creditworthiness by the Lending Loop team. If everything looks good, they're listed on the Lending Loop marketplace, which you can see a snapshot of below: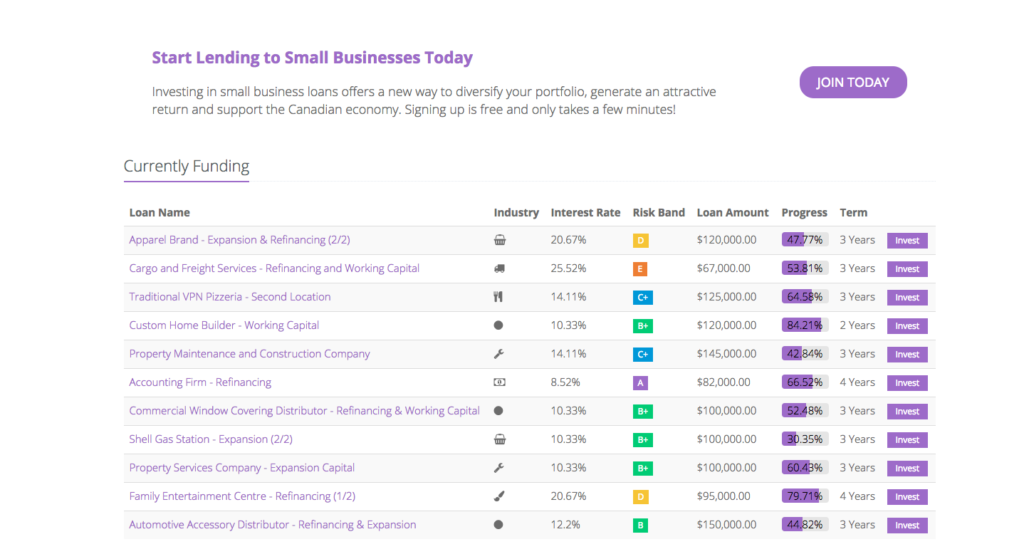 This is where we come in, the investors, and the magic happens. Lenders like you and me can pick and choose the small businesses we want to invest in and commit to lending our funds. When enough investors commit to lending out our funds to one small business, the funds are pooled together and used to fund the loan.
Speaking to the Business News Network about how much of your portfolio you should commit to peer-to-peer lending, Lending Loop CEO Cato Pastoll says, "It really comes down to the financial circumstances of a particular investor. Some people may be comfortable only investing $200, which is why we've set those limits so low, and others may have tens of thousands or hundreds of thousands to invest, so it really depends on each individual's personal appetite. Personally, I believe that this should make up anywhere from 20-30% of Canadians' investment portfolio and I think that would be a good bellwether to go on."
The Bottom Line
There you have it, the peer-to-peer lending process in a nutshell. So, what are you waiting for? If you're looking for an attractive return and want to help small businesses, Lending Loop is the perfect platform to do it through. Sign up for an account for free today and you could be on your way to earning up to 9.8% returns, all while helping finance the next Canadian small business success story.
---
Sean Cooper is the author of the new book, Burn Your Mortgage: The Simple, Powerful Path to Financial Freedom for Canadians, available at Amazon, Indigo and major bookstores.