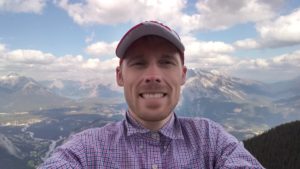 A promise I made to myself when I burned my mortgage was that I'd stop putting off travel and make it more of a priority going forward. With my mortgage paid off, I no longer have a good excuse not to travel.
As I mention in my book, the best part about achieving financial freedom is that it gives you choices. You don't have to stay at a job that you hate just to pay the mortgage. You can "seize the day" and do what matters most to you, whether it's starting your own business, volunteering or travelling.
Why Western Canada?
I had so much fun on my first trip to San Francisco in July and had some vacation time left at work, so I decided to plan another trip. Before I travel the world, I think it only makes sense to see the beauty Canada has to offer. I've already been to Ontario, Quebec and the Maritimes, but I'd never been west of Ontario, so I decided to change that and booked a trip to Western Canada. I visited Calgary and Vancouver because I've heard such great things about them and I have friends there, too.
Planning My Trip
My trip to Western Canada was a last minute trip. I started planning it three weeks ahead of time. Similar to my trip to San Francisco, I booked my flight through PC Travel. I book three flight: Toronto to Calgary, Calgary to Vancouver and Vancouver to Toronto. In total, my flights were under $700. I didn't do as much planning as my San Fran trip. I made a short list of attractions I wanted to visit and printed off a map – that's about it!
I decided to stay at Airbnb instead of hostels this time. It was a little more expensive, but well worth the money. I brought along my laptop to keep up with my writing while I was away. I was able to write blog posts for a couple hours every morning, which more than covered my pricier accommodations.
Day 1: Saturday, September 16
I woke up at 4:30AM ET on a Saturday morning to catch my 8AM ET flight from Toronto Pearson. There was a brief stopover in Saskatoon, before I landed in Calgary at 11:25AM MT.
I wanted to make the most of my first day in Calgary, so I made my way downtown. Unfortunately, there isn't a CTrain (Calgary's LRT) station at the airport, but there are a couple buses you can take. Route 300 is an express bus that takes you directly downtown, but there's a catch – you have to purchase a transit day pass. If you're not in a hurry, a more frugal option is the Route 100 bus. For the price of a regular fare, it takes you to McKnight Westwinds station, where you can take the CTrain downtown. (Fun fact: to encourage more people to take public transit, the CTrain is free to ride downtown.)
When I made it downtown, I grabbed lunch at the food court in the upscale CORE Shopping Centre. I walked along Stephen Avenue, a pedestrian promenade closed to traffic, lined with bistros (it reminded me of a European city). After that, I headed to Fort Calgary. Not only is Fort Calgary a National Historic Site, that weekend it was home to a fire-breathing dragon as part of Beakerhead, an annual mash-up of art, science and engineering. The Serpent Mother stretched 168 feet long and boasted 40 pillars of fire – quite an impressive sight to see!
After exploring Chinatown and the parks along the Bow River, I headed back to my Airbnb. I didn't anticipate how big Calgary is. It was quite a walk from downtown Calgary to my Airbnb. Next time I go to Calgary, I'll choose something closer, but it was a beautiful condo nonetheless.
Day 2: Sunday, September 17
On Sunday I started the day by meeting fellow finance writer Janine Rogan. Since this was my first time in Calgary, Janine was nice enough to take time out of her busy schedule to meet up and show me around town.
I wanted to try some authentic Calgary cuisine, so we went for lunch at Una Pizza + Wine on 17th Avenue. It was 20°C outside, perfect patio whether. (Calgarians are a tough bunch. As long as it's above 0°C, it's patio whether for them. The same can't be said for Torontonians. We once called in the army when we got too much snow. Sorry, couldn't resist! haha)
We dined on avocado smash corn on the cob (I figure I've earned it since I did pay off my mortgage in three years – and at least it's not avocado toast haha) and shared a delicious pizza: 4-maggi, provolone piccante, friulano, ­fior di latte mozzarella + pecorino romano, fi­nished with tru‑e oil + local urban honey (boy, what a mouthful to say!). Of course, no meal would be complete without mimosas!
We both love ice cream, so after our meal, Janine took me to Village Ice Cream on 10th Avenue. The store may be off the beaten track, but there was a long lineup that stretched outside the store. After debating the merits of $15 an hour minimum wage with Janine (sadly, I actually enjoy talking about this on vacation), I finally got to try the ice cream and let me tell you, it was well worth the wait! I went with Maple Pecan flavour – it was delicious!
After thanking Janine for the wonderful time and parting ways, I went to the Calgary Tower. Living in Toronto my whole life, home of the CN Tower, I'd always been interested in visiting the Calgary Tower. In the lobby of the Calgary Tower are sketches of the tallest towers and buildings around the world, which I found pretty cool. The elevator ride up the Calgary Tower was a little cheesy (instead of riding in a glass elevator like the CN Tower, there are videos showing you the outside scenery), but once I got up to the observation desk, I had a blast. Despite no longer being the tallest building in town (they should have probably built it a little taller… you can barely see the Calgary Tower unless you're standing close by), it still gives you an amazing panoramic view of the city. The Calgary Tower also has a glass floor similar to the CN Tower. While the view was great, what I enjoyed the most was learning about the history of Calgary. There was a self-guided tour where you could learn about all the buildings, parks and attractions you were looking at. It was especially interesting to learn about how the city banded together during the flood in 2013 and how the Saddledome got its name.
Day 3: Monday, September 18
On Monday morning I woke up at the crack of dawn to catch the Greyhound bus to Banff. I had the choice between the 7:30AM and 12:30PM bus. I wanted to make the most out of my time in Banff, so I went with the earlier bus.
When I arrived in Banff, I didn't know what to expect. Family and friends had told me Banff was one of the most beautiful places in Canada and boy, were they right! Banff reminds me a lot of Niagara Falls, but on a smaller scale. It has plenty of things to see and do – lots of shopping and restaurants.
After exploring the town for a bit, I went on my first hiking expedition of the day: the Tunnel Mountain Trail. I had a heck of a time finding the trail (it took me 45 minutes of wandering around), but once I did it was a lot of fun. I had never hiked a mountain, so I didn't know what to expect. Hiking was a lot of fun; I got a good workout. The trail well-travelled (some peace of mind, since I was hiking alone). There were some breathtaking views on the way up. It took me about 1.5 hours to make it to the summit of Tunnel Mountain, but it was well worth it: the views are stunning. I could see beautiful mountains surrounding the town and the castle-like Fairmont Banff Springs Hotel below.
After hiking down Tunnel Mountain and breaking for lunch, I took a shuttle bus to the base of Sulphur Mountain. I took the scenic Gondola ride up the mountain. At the top of the mountain, I enjoyed even more breathtaking views. I've been to Niagara Falls and the Bay of Fundy, but I can honestly say the views from Sulphur Mountain were the most spectacular I've ever seen. You have to see them in person to believe the beauty you're looking at.
Unfortunately, I didn't get a chance to see Jasper or Lake Louise, so I'll have to come back one day.
Day 4: Tuesday, September 19
In my last full day in Calgary, I stopped by Tangerine's new café location on 17th avenue. The staff there were nice enough to give me a personal tour. I'd never been to the other location, but this location is really hip and cozy. Be sure to check it out the next time you're in town.
I spent the afternoon in the Calgary Zoo. Unlike Toronto Zoo where you have to take a lengthy bus ride to get there, the Calgary Zoo is conveniently located on the CTrain line. The zoo is well worth a visit. It has many interesting animals to see, including penguins, giraffes, tigers and gorillas. Part of the zoo is located on St. Patrick's Island. It was remarkable hearing how the zoo staff rescued the animals during the flood (and how the hippos almost floated away). All in all, I had a great time there. It's well worth spending the afternoon there.
In the evening, I went for one last stroll downtown and along the Bow River, before packing up for Part 2 of my trip: Vancouver and Victoria.
---
Sean Cooper is the author of the new book, Burn Your Mortgage: The Simple, Powerful Path to Financial Freedom for Canadians, available at Amazon, Indigo and major bookstores.