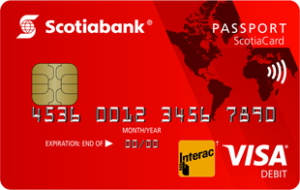 In the summertime, I was invited to a Rewards Roundtable event hosted by Scotiabank. I enjoyed a delicious vegetarian meal prepared by Celebrity Chef Corbin Tomaszeski, as we discussed everyone's favourite dinner table topic, rewards.
When it comes to credit cards, there are plenty of reward options out there – cash back, reward points, travel reward, to name a few. But not all of us wants to use a credit card for our everyday spending. Some of us prefer debit cards.
Octavia Ramirez is a perfect example. I had the pleasure of meeting her over the summer. Octavia made a life changing decision when she dumped her debt forever. Instead of relying on a wallet full of credit cards, she uses her handy debit card for everyday spending and budgets and saves for major purchases. In fact, Octavia and her husband cash-flowed their wedding and honeymoon – amazing!
Limited Debit Reward Options – Until Now!
There are limited options for debit rewards, but thanks for Scotiabank, that's quickly changing. Scotiabank is a bank that prides itself by offering more rewards choice than any other bank. At the Reward Roundtable event, Scotiabank unveiled its latest debit reward offering.
The new Scotiabank Passport Debit Card is a unique offering in the reward space. It lets you earn rewards in a highly coveted reward category – travel. Earn travel rewards every time you use your debit card to make a purchase.
A travel reward program is only useful if it's easy to redeem your points. Many programs make you jump through hoops to redeem your points for a flight that you actually want. Not the Scotiabank Passport Debit Card! Not only is it easy to earn points, it's easy to redeem them.
You'll earn 1 Scotia Rewards point for every $5 spent (each point is worth about one cent). When it comes time to redeem your points, this is where the debit card really shines. Unlike other travel rewards programs, you won't be stuck booking red-eye flights. You can actually book the flight that you want.
The Scotiabank Passport Debit Card offers a ton of flexibility in deeming your points. Redeem your points in low increments of 5,000. Use the points to book travel, buy from an online catalogue or redeem points for credit, the choice is yours!
Here's another reason to sign up. It offers a nice signup bonus to new debit cardholders. Receive up to 10,000 bonus points when you sign up – that's equal to about $100. Not bad!
One of Many Rewards Options Offered by Scotiabank
The Scotiabank Passport Debit Card is one of the many reward options offered by Scotiabank and its subsidiary, Tangerine Bank. (I'm a big fan of the Tangerine Money-Back Credit Card. You'll be hard-pressed to find a better cash back credit card out there.)
Whether you're looking for cash back, reward points or travel rewards, there's surely a Scotiabank rewards program that suits your needs. With the points you earn, you'll be one step closer to your next goal – a family vacation, down payment or burning your mortgage, like me.
Sign up for a Scotiabank rewards program today and earn the rewards you truly deserve for your hard-earned money.
---
Sean Cooper is the author of the new book, Burn Your Mortgage: The Simple, Powerful Path to Financial Freedom for Canadians, available at Amazon, Indigo and major bookstores.