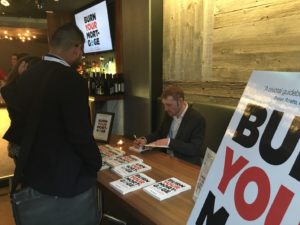 Have you picked up your copy of my new book, Burn Your Mortgage, yet? It's flying off bookshelves! Thank you to everyone who has purchased my book and helped spread the word on social media with the hashtag #BurnYourMortgage. If you haven't already, I'd really appreciate it if you'd post a book review on Amazon.
Exciting news! I'll be hosting author signings and meet & greets at Chapters and Indigo locations in Toronto in May and June. Feel free to stop by for a bit and say hi. It'd be great to see you there! I'm happy to personalize and sign copies of my book for you. Feel free to forward this message with family and friends who may be interested – the more, the merrier!
Dates & Locations
Saturday, May 13th 1-4pm
Chapters – Bayview Village
2901 Bayview Avenue, #132
Thursday, May 18th 5-8pm
Indigo – Eaton Centre
220 Yonge Street
Saturday, June 3rd 1-4pm
Indigo – Yonge & Eglinton
2300 Yonge Street
Can't make it to an author signing and meet & greet, but still want a signed copy of my book? For a limited time, you can pick up signed copies of my book at all Chapters and Indigo locations in Toronto and Ottawa. Just look for a blue "signed by author" sticker on the front cover. Hurry! Better pick up these signed copies before they sell out.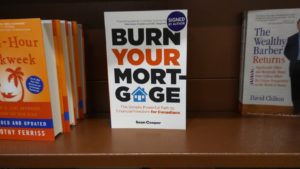 Thank you as always for your support. Happy mortgage burning!
---
Sean Cooper is the author of the new book, Burn Your Mortgage: The Simple, Powerful Path to Financial Freedom for Canadians, available at Amazon, Indigo and major bookstores.